Surrogacy in India
Issues in Surrogacy 
The main reason for India's dominance in commercial surrogacy is its low cost which is around 1/3rd of that in developed countries like the USA. The other reasons are large number of women willing to engage in surrogacy, top-notch private healthcare & business climate that encourages the outsourcing of Indian labor, world-famous tourist destinations, and the total absence of government regulation.
Surrogates' exploitation in terms of health, financial & post natal care
Improper contracts between surrogate mothers, who are often poor, and the intended parents – sometimes structured in a manner that the former assumes all the risks, absolving the liability of the latter.
Commercialization of Surrogacy viz. 2.3 billion dollars a year
Abandonment of surrogate babies – born with disabilities or unplanned twins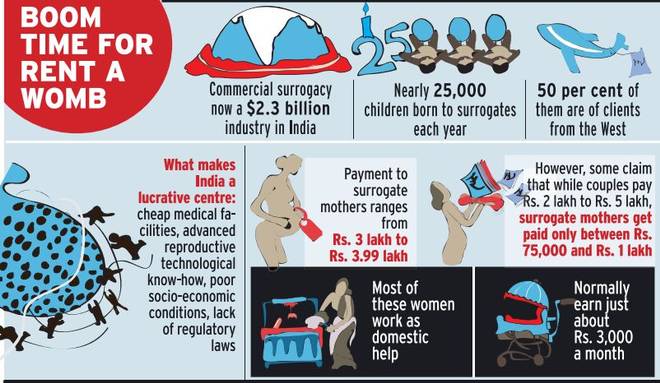 There are some countries that do not recognize commercial surrogacy and hence the surrogate baby is caught in the legal battles of related to citizenship & fundamental rights.
Commodification of children e. children are not conceived for motherhood, but often for money
---
Surrogacy (Regulation) Bill, 2016 
Seeks to ban commercial surrogacy and allow only infertile couples to bear a child using a surrogate mother.
Single men and women, heterosexual couples who choose not to opt for marriage, gay couples, transgender persons, single parent cannot have baby through surrogacy
NRI or PIO card-holders are also banned to have baby through surrogacy
Legally wedded Indian couples can have a surrogate child only after five years of legal marriage and will require a medical certificate as proof of infertility. Also, they could seek "altruistic" surrogacy, but only through "close relatives"
Mandatory for surrogate mothers to be married and be a close relative of the couple wanting a child. She should also have given birth to a healthy child before bearing a baby for another couple
A woman can only bear one surrogate child
Violating the law can earn 10 years in jail term or fine of 10 Lakh rupees
Pros 
Prevent exploitation of women especially poor women who were forced to get into this business
Protects women from repeated surrogate pregnancies for monetary gains
Vast majority of surrogates are poor or illiterate women who may have only a weak grasp of their contractual rights
Cons 
will push the industry underground and render surrogate mothers even more vulnerable
bill is silent on the fate of the frozen embryos
does not address the modern social reality where singles, homosexuals or live-in couples might wish to have a biological child through the surrogacy route
does not take into account the livelihood matters of poor women who are involved in surrogacy business
possibility of coercion of daughters-in-law in families
Surrogacy is both a need (for the infertile couples) as well as has become the source of income for many (poor women). So before putting a blanket ban one should strive for more empathetic ways and means to deal with the issue along with strict regulations should be put in place to end the commercialization of surrogacy.