Child Marriage
Almost one in every three married woman having been wed while she was still under the age of 18 years – Highest in the central and western parts of India, & more in rural areas.
Reasons 
Low education opportunities due to low quality of education, inadequate infrastructure & lack of transport.
People feel that the traditions & norms are stronger than the law & institutions
Girls are often seen as a liability with limited economic role
Dowry amount increases with the age & education level of the girl
Law enforcement to prohibit child marriage is relatively weak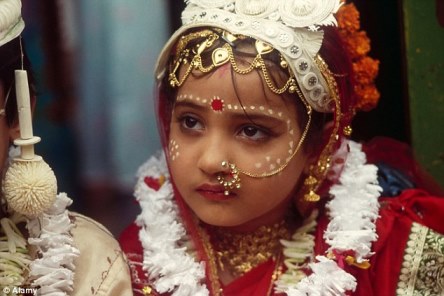 Implications
Deprives children of access to education & thereby better opportunities in future
Limits the child's freedom of decision & thus, domestic violence thrives
Associated with multiple health risks as young brides have limited access to contraceptive health services
Exposed to early and frequent sexual relations & to repeated pregnancies before they are physically mature and psychologically ready
Perpetuates gender discrimination & illiteracy + high infant & maternal mortality rates
Government Initiatives 
Prohibition of Child Marriage Act, 2006 – llegal for girls to marry under 18 years & for boys under 21 years
A non-cognizable and non-bailable offence with fine upto 1 lakh or 2 years of Jail or both
Dowry Prohibition Act 1961
Juvenile Justice (Care and Protection of Children) Act 2015
Domestic Violence Act 2005
Protection of Children from Sexual Offences Act, 2012
"We Request you to shop on Amazon or Flipkart using links given below to help us earn Referral Commission"
SHOP ON AMAZON                               SHOP ON FLIPKART