Crimes Against Women
NCRB Data – crimes against women have more than doubled over the past 10 years – physical as well as mental cruelty – 95% cases, offender is known to victim – Delhi has the highest rate of crimes against women overall.
Genital Mutilation
Commonly called khatna and practised mostly by muslims
The custom is inflicted on young girls, when they are six or seven-year old.
Carried out mostly by untrained midwives, it involves cutting off the clitoral hood, in the belief that it will curb a women's sexual drive.
Banned in 24 African countries + UK + US
In December 2012, the UNGA adopted a unanimous resolution to eliminate the practice.
Provisions in India
Section 320, 323, 324, 325 of IPC related to causing grievous hurt aim to curb such practises.
Various sections of POSCO ACT also aim to abolish violent acts like FGM
Goal 5 of SDGs also calls for elimination of all harmful practices like FGM
To end such forms of violence against women awareness generation is required with the help of NGOs and by using medical explanation of harmful effects of such physical practices.
---
Domestic Violence Act
Women & Men in India 2015 Report – Domestic violence shares highest share in crime against women
Women face most risks from their families – 36% of all cases – cruelty by husband and relatives
24 % – assault on women with intent to outrage her modesty
Recent Changes in Domestic Violence Act 
Definition of Domestic Violence has been modified – includes actual abuse or threat of abuse i.e. physical,
sexual, verbal, emotional or economic
Widened the scope of term WOMEN to cover live in partners, wives, sisters, widows, mothers & single women
Right to reside in the matrimonial or shared household, whether or not she has any rights in the household
Court can pass protection orders to prevent the abuser from committing an act of domestic violence like preventing the abuser to enter a place frequented by the abused
Appointment of protection officers and NGOs to provide assistance, legal aid and safe Shelter
One year maximum imprisonment and Rs. 20,000 each or both
Non-compliance or discharge of duties by the protection officer is also sought to be made an offence with similar punishment
The Supreme Court has struck down the words "adult male" from the pertinent provision in the DV Act to lay down that a woman can also file a complaint against another woman, accusing her of domestic violence. It makes DV gender neutral & in accordance with art 14 of Indian constitution. However, there are concerns from some corners that it would encourage husbands to file counter cases against their wives through their mothers or sisters.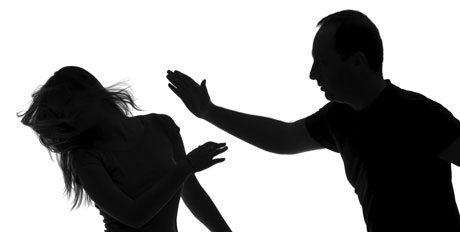 Reasons for domestic violence 
More income of a working woman than her partner especially in urban areas
Violence against young widows especially in rural areas – cursed for their husband's death
Orthodox & Patriarchal mindset- male domination and control over women
Demand for dowry; infertility or desire for male child; alcoholism
Criticism/Misuse of the Domestic Violence Act 
Gender biased and not gender neutral- Increasing number of false cases.
Excludes abuses pertaining to martial rape
Verbal abuse & mental harassment- scope of subjective interpretation
Lack of awareness esp. in rural areas where it is most needed
Judicial system resorting to mediation and counselling even in cases of extreme abuse
Insufficient budgetary allocation to States- could not assign Protection Officers
Way forward 
Faster delivery of cases
PRIs + NGOs relating to women empowerment – should play a progressive role
More awareness drive esp. in rural areas
Women should be financially empowered through various government schemes and programmes
---
Cybercrime Against Women
Offences committed against people with a criminal motive to cause physical or mental harm using modern telecommunication networks such as Internet and mobile phones.
Harassment via E-Mails
Cyber-Stalking
Dissemination of Obscene Material
E-Mail Spoofing
Cyber Pornography
Issues/ Challenges 
Cyber- crimes against women are rising at alarming rate
Issues specifically regarding women are not addressed in the IT Act 2000
IT Act 2000 does not mention typical cybercrimes like cyber staking, morphing & email spoofing as offences
Cases of online harassment against women are not maintained by the government
Social networking sites are being used to circulate offensive content
Issues of revenge-porn, distribution of non-consensual photography often involving nudity & sex
social media is used by traffickers to sell people whose photographs they share, without their consent
Steps taken by the Government 
Cyber Crime Cells have been set up in States & UTs for reporting & investigation
Cyber forensic training & investigation labs have been setup for training of Law Enforcement & Judiciary
Awareness & training programmes on Cyber Laws and Cybercrimes for judicial officers
Scheme for Universalisation of 24 hours Women Helpline has been approved
Other initiatives for Women safety & empowerment – Pink initiative of Kerala Gov, Tejaswini Project of Jharkhand Gov. Kanyashree Prakalpa Scheme of West Bengal government.
---
Draft National Policy on Women 2016
The concept of women empowerment has seen changes, from being recipients of welfare benefits to the need to engage them in the development process
Recognition for women's reproductive rights by shifting focus from female sterilization to male sterilization
A mission mode approach for literacy amongst women
Health including food security and nutrition + Ensuring access to safe drinking water & sanitation
Relation between gender and poverty dynamics will be addressed
Holistic Efforts to address all forms of violence against women from home to workplace
Engaging men & boys in awareness generation programmes
Gender parity in mass media and greater participation in sports
A review of the personal and customary laws in accordance with the Constitutional provisions
A comprehensive social protection mechanism for single women including widows separated, divorced, never-married and deserted women
Policies for environment conservation & restoration, and disaster management will compulsorily incorporate gender
Concerns 
Creating ecosystem for women to participate in entrepreneurial activities, take up decision-making roles and leadership in all sectors of the economy
Setting up Gender Budgeting Cells set up in Ministries, state government Departments, Panchayats and urban local bodies to conduct in-house gender audit of requisite policies, programs and schemes