Open Defecation India, Swachh Bharat Mission
Open Defecation Idea
India accounts for 59 % of total people in the world who practice open defecation, & 90 % of people in south Asia. Swachhta Status Report in 2015, more than half of the rural population still defecates in open.
Problems associated with open defecation 
Malnutrition, Diarrhoea and worm infection
Open defecation puts at risk the dignity of women – Women feel constrained to relieve themselves only under the cover of dark – make them more prone to physical attacks
Cripples national development – workers produce less, live shorter lives, save and invest less
Challenges faced
Traditional practice- It is deeply ingrained in society
Sanitation is not a socially acceptable topic, and hence, people do not discuss it
Many of the poorest people do not prioritize toilets; many are living in rented homes without toilets
Society does not view lack of a toilet as unacceptable. Building & owning a toilet is not perceived an aspiration
Construction of toilets is still seen as the government's responsibility
The challenge is to motivate people to see a toilet as fundamental to their social standing, status and well-being. The success of Swachh Bharat Mission is dependent upon behavioral changes and thus there is a need to engage with the community and facilitate the efforts by the people and involved organisations.
---
Swachh Bharat Mission 
It was launched on 2 October 2014 to make India clean and open defecation free by 2019, Mahatma Gandhi's 150th birth anniversary. It has slowly developed into a people's movement with greater awareness and participation and increased interdepartmental coordination.
Ministry for Drinking Water and Sanitation is looking at the rural part of the scheme
Urban Development Ministry is implementing the programme in urban areas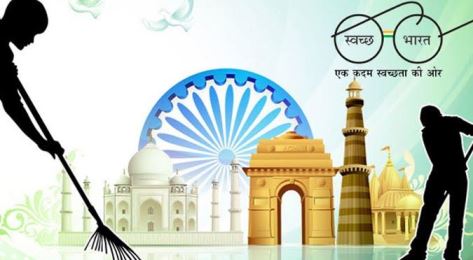 Efforts by the government
Cash incentive for building toilets are being provided by the government
Creating solid waste management facilities
Efforts and focus on bringing behavioral changes by –
Roping in celebrities to promote
City surveys to instill a sense of competition among cities – Swachh Survekshan
Using technology like Hike Messenger Group which has local administrators from the respective states showcasing their achievements
Creation of a portal by the ministry where all the information is available about the project
Sanitation Messengers (Swachchata Doot)- village level motivators