Personal Laws & Gender Justice
Personal Laws are a set of laws in India that govern various aspects of a person's life like family, marriage, divorce, inheritance, etc. Due to plurality of faith in India, the laws regulating personal matters were left to be governed according to an individual's faith.
Various personal laws have left women vulnerable due to their depiction as weaker gender of the society.
Sec 44 of Indian constitution – to have a uniform civil code and do away with the diversity in laws governing the personal aspects of an individual's life.
Examples
Polygamy- rampant among Muslim men
Triple talaq – Muslim women have no similar right to talak
Nikah halala – a practice under which a woman who wishes to remarry her former husband must first consummate a nikah with another man
Dowry- the money or goods given to the bride or her in-laws at the time of marriage
Property Rights- Only recently, Delhi High Court announced that the eldest daughter can be the karta of the Hindu Undivided Family property
Bigamy- A Hindu second wife is devoid of her right and also divested from her status as "wife".
Judgments
Muslim Personal Laws: Recent verdict on 'Triple Talak' & its validity in Shayara Bano v Union of India case
Hindu Personal Laws: Court's verdict that wife's refusal to stay in a joint family amounts to cruelty to husband
Why India Requires UCC
A secular republic needs a common law for all citizens rather than differentiated rules based on religious practices.
Another reason why a uniform civil code is needed is gender justice. The rights of women are usually limited under religious law, be it Hindu or Muslim. The practice of triple talaq is a classic example.
Many practices governed by religious tradition are at odds with the fundamental rights guaranteed in the Indian Constitution.
Courts have also often said in their judgments that the government should move towards a uniform civil code including the judgement in the Shah Bano case.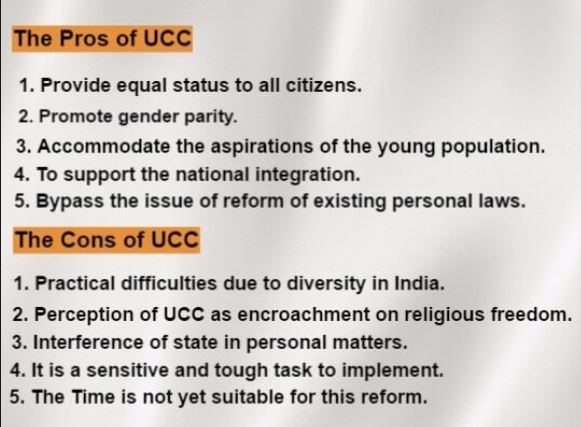 Given the diversity of the country, having a UCC can be a bigger problem than a panacea. Where on one hand the Fundamental Rights provide equality of all to propagate and follow one's own religion and religious practices, any step that affects their right to exercise their customary laws may prove otherwise.
In a country as diverse as India, implementing UCC may be a challenge and can take long time to build consensus and be implemented. In the meanwhile, it might be necessary to codify the personal laws of different religions such that the discriminating rules and the laws adverse to gender equality maybe repealed.