India Bhutan Relations
Bhutan- India relations are governed by a friendship treaty (1949) that was renegotiated in 2007, freeing Thimphu's external relations & arms import permission from Delhi, but still subjecting the Himalayan nation's security needs to supervision.
Under the 2007 India-Bhutan Friendship Treaty, the two sides have agreed to "cooperate closely with each other on issues relating to their national interests" + Neither Government shall allow the use of its territory for activities harmful to the national security and interest of the other
India is Bhutan's largest trading partner -Bhutan sources the majority of its import requirements from India.
One-third of Bhutan's exports to India is electricity, highly valuable for India
Free trade regime between the two countries
India has been providing financial assistance to Bhutan's five-year development plans since 1961
Hydro-electric power generated by Bhutan's river dams is economic bedrock of the India-Bhutan relationship.
India has helped finance the dams through a combination of aid & loans and buys the excess electricity at very low prices.
Importance of Bhutan 
Buffer state between India and china
Strategic Importance – Chumbi Valley is situated at the trijunction of Bhutan, India and China and is 500 km away from the "Chicken's neck" in North Bengal, which connects the northeast with rest of the country.
Bhutan in past has helped India to contain insurgency in North-East by flushing out militants groups like NDFB & ULFA.
Only country in the region that joined India in its boycott of Chinese President OBOR project
China is interested in establishing formal ties with Thimphu, where it does not yet have a diplomatic mission. Bhutan is strategically important for both India and China.
---
BBIN Initiative
Bangladesh, Bhutan, India and Nepal (BBIN) motor vehicle agreement, for streamline movement of passenger and cargo transport, was rejected by the upper house of the Bhutanese Parliament.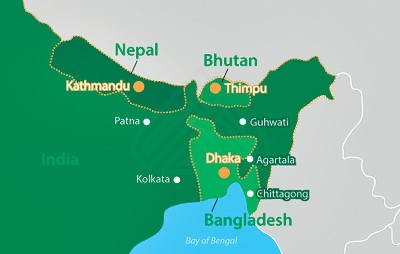 Reasons Given
Streamline movement of passenger & cargo transport will overwhelm Bhutan with traffic, tourists & pollution.
BBIN MVA is not much of help to Bhutan in economic development as Bhutan's trade is mostly with India & both nations already allow free movement of vehicles across their border.
Significance of BBIN for India 
Significance for its neighbourhood diplomacy.
Would have paved the way for a seamless movement of people and goods across their borders for the benefit and integration of the region and its economic development.
India's plan to single out Pakistan by implementing the pact has suffered a jolt by Bhutan rejection.
India has asked the Bhutanese government to reconsider the pact. However, the reconsideration can be done only after a year, as per the procedure there.For the time being, it has been decided that the pact will be implemented only amongst those countries which have ratified it- India, Bangladesh and Nepal.