India Central Asia Relations
Long historical, cultural and economic connections. The famous Silk Route not only connected the people and businesses, but also let the thoughts, culture and beliefs flow freely from one region to the other.
India considers the Central Asian countries as part of its 'extended and strategic neighbourhood
In 2012, India announced the 'Connect Central Asia' policy with four major interests in Central Asia: security, energy, trade and mutual cooperation in various realms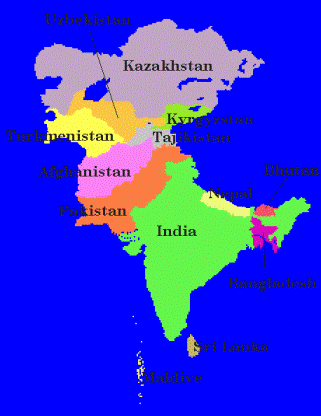 Importance of central Asia 
Energy security – Significant hydrocarbon (gas) and mineral resources (uranium) + close to India geographically
Strategic Location – Geographically a bridge between different regions of Asia and between Europe and Asia
Complementary Economies – India wants energy reserves, they want agricultural & pharmaceutical products
Security – To tackle the challenge of terrorism, narcotics trafficking and arms smuggling – as it lies in neighborhood of 'Golden Crescent'
Central Asian nations and India can play effectively role in bringing normalcy in Afghanistan.
Regional cooperation: Four central Asian Nations are part of SCO
---
Challenges 
The key constraint India faces is the lack of direct access to Central Asia
Central Asian region is land locked. It has hampered India's relation with central Asia. Poor connectivity has also contributed to the below-par trade between India and Central Asia.
The unstable situation in Afghanistan and a highly problematic India-Pakistan relation have deprived India from the benefit of relations with Central Asia.
Chinese presence: Central Asia is part of Silk Road Economic Belt initiative
---
Latest development to connect central Asia 
India has become full member of SCO. Annual SCO summits will provide a forum to leaders of these countries to meet and discuss issues of bilateral and regional interest.
India is a founding member of International North-South Transport Corridor, a multi-nation project to create transport and logistics infrastructure
India plans to develop Chabahar port in Iran, which will allow access to landlocked Afghanistan and energy-rich Central Asia from Indian Ports
India has acceded to Ashgabat Agreement, an international transport and transit corridor facilitating transportation of
Goods between Central Asia and the Persian Gulf.
Turkmenistan-Afghanistan-Pakistan-India (TAPI), expected to be completed by end 2019
---
India – Kazakhstan
The biggest source of Uranium for India, besides Australia and Canada
India was one of the first countries to recognize the independence of Kazakhstan.
Have agreement on defence and military-technical cooperation
Kazakhstan is India's largest trading partner in Central Asia
Kazakhstan is the biggest oil and gas producer in Central Asia
Kazakhstan is supportive of India's permanent membership of UNSC and full membership of SCO and India supported Kazakhstan's candidature for non-permanent membership of UNSC for 2017-18.