Theater in India
The Indian theater has a tradition going back to at least 5000 years.  Theater in India started as a narrative form, i.e., reciting, singing and dancing becoming integral elements of the theater. This emphasis on narrative elements made our theater essentially theatrical right from the beginning. That is why the theater in India has encompassed all the other forms of literature and fine arts into its physical presentation: Literature, Mime, Music, Dance, Movement, Painting, Sculpture and Architecture. Theater in India can be broadly divided into into three distinctive kinds viz:
Classical or the Sanskrit theater
Traditional or the folk theater
Modern theater
Sanskrit theater 

Traced to the 1st century AD
An amalgamation of the religious, educational and entertaining elements

Folk theater

Mainly narrative or vocal without any complicated gestures or movements and elements of dance
Divided into Ritual Theater and Theater of Entertainment

Modern theater 

Traced with the coming of British in India.
They introduced their brand of theater in Bombay, Calcutta & Madras
---
Folk Theater (Drama)
Bhand Pather (Kashmir)
Unique combination of dance, music and acting.
Satire, wit and parody are preferred for inducing laughter.
Music is provided with surnai, nagaara and dhol.
Since the actors are mainly from the farming community, the impact of their way of living, ideals and sensitivity is noticeable
Swang (Haryana)
Mainly music-based – Gradually, prose too, played its role in the dialogues.
Softness of emotions, accomplishment of rasa along with the development of character can be seen
Two important styles are from Rohtak (Haryanvi language) and Haathras (Brajbhasha language)
Nautanki (Uttar Pradesh)
Most popular centres – Kanpur, Lucknow and Haathras
Verses form: Doha, Chaubola, Chhappai, Behar-e-tabeel
Nowadays, women have also started taking part
Rasleela
Based exclusively on the pranks of Lord Krishna
It is believed that Nand Das wrote the initial plays based on the life of Krishna.
Dialogues in prose combined beautifully with songs and scenes from Krishna's pranks
Bhavai (Gujrat)
Rare synthesis of devotional and romantic sentiments
Instruments → Bhungal, tabla, flute, pakhaawaj, rabaab, sarangi, manjeera, etc.
Main centers → Kutch and Kathiawar
Jatra (West Bengal)
Fairs & ceremonies in honour of gods, or religious along with musical plays
Earlier form of Jatra has been musical; dialogues were added at later stage.
The actors themselves describe the change of scene, the place of action, etc.
Krishna Jatra became popular due to Chaitanya prabhu's influence
Maach (Madhya Pradesh)
Songs are given prominence in between the dialogues.
The term for dialogue in this form is bol and rhyme in narration is termed vanag
The tunes of this theater form are known as rangat
Tamasha (Maharashtra)
Evolved from the folk forms such as Gondhal, Jagran and Kirtan
Female actress (known as Murki) → Chief exponent of dance movements in the play.
Prominent Features → Classical music, footwork at lightning-speed, and vivid gestures
Dashavatar (Konkan-Goa)
Personifies the ten incarnations of Lord Vishnu – the god of preservation and creativity.
Ten incarnations → Matsya (fish), Kurma (tortoise), Varaha (boar), Narsimha (lion-man), Vaman (dwarf), Parashuram, Rama, Krishna (or Balram), Buddha and Kalki.
Apart from stylized make-up, the Dashavatar performers wear masks of wood and papier mache
Krishanattam (Kerala)
Came into existence in the mid-17th century under the patronage of King Manavada of Calicut.
Krishnattam is a cycle of eight plays performed for eight consecutive days
Eight plays → Avataram, Kaliamandana, Rasa krida, kamasavadha, Swayamvaram, Bana Yudham, Vivida Vadham, and Swargarohana.
Episodes are based on the theme of Lord Krishna – his birth, childhood pranks and various deeds depicting victory of good over evil
Mudiyettu (Kerala)
Celebrated in the month of Vrischikam (November-December).
Performed only in the Kali temples of Kerala, as an oblation to the Goddess.
Depicts the triumph of goddess Bhadrakali over the asura Darika.
Seven characters in Mudiyettu → Shiva, Narada, Darika, Danavendra, Bhadrakali, Kooli and Koimbidar (Nandikeshvara)
Theyyam (Kerala)
'Theyyam' is derived from the Sanskrit word 'Daivam' meaning God – Hence called God's dance.
Performed by various castes to appease and worship spirits.
Distinguishing features – Colourful costume and awe-inspiring headgears (mudi) nearly 5 to 6 feet high; dyed into different strong colours
Koodiyettam (Kerala)
Based on Sanskrit theater traditions
Characters → Chakyaar or actor, Naambiyaar, the instrumentalists and Naangyaar, those taking on women's roles.
The Sutradhar or narrator and the Vidushak or jesters are the protagonists
Vidushak alone delivers the dialogues.
Emphasis on hand gestures and eye movements makes this dance and theater form unique.
Yakshagana (Karnataka

) 
Based on mythological stories and Puranas – performed at twilight hours
Mostly episodes are taken from Mahabharata and Ramayana
Therukoottu (Tamil Nadu)

 
Literally means "street play"- mostly performed by males dancers
Mostly performed at the time of annual temple festivals of Mariamman (Rain goddess) to achieve rich harvest.
Theme being a cycle of eight plays based on the life of Draupadi.
Karyala (Himachal Pradesh)
Deals with serious question of life & death with simplistic expression; enveloped in humour.
Audience is given essence of our cultural heritage of viewing the world as a stage and as an unsubstantial pageant which is to be negotiated and lived by rising above it.
There is often stylistic diversity, which strengthens their identity from Swang, Nautanki, Bhagat, etc.
Bhaona (Ankia Naat) – Assam
Creation of Great Assamese saint and social reformer Srimanta Sankardeva
Written in an language called Brajavali (mixture of Assamese-Maithili)
Primarily centered on the acts of Lord Krishna
Shows cultural glimpses of Assam, Bengal Orissa, Mathura and Brindavan.
The Sutradhaar, or narrator begins the story, first in Sanskrit and then in either Brajboli or Assamese
---
Some more folk theater / drama of India
| | |
| --- | --- |
| Bengal | Kirtania Natak |
| Bihar | Bideshia |
| Uttar Pradesh | Raas, Bhaand |
| Rajasthan | Raas, ghoomar, Dhola Maru,khyal |
| Maharashtra | Larite, lavani |
| Kerala | Thiyyattom |
---
Puppet Theater of India

 
Ancient Hindu philosophers have likened God Almighty to a puppeteer and the entire universe to a puppet stage.
Puppet themes are mostly based on epics and legends.
Prominent Puppet forms in India → String Puppets, Shadow Puppets, Glove Puppets, Rod Puppets
String Puppets
Also known as marionettee. a puppet controlled from above using wires or strings
Allow far greater flexibility than other puppet forms
Prominent styles → Kathputli (Rajasthan), Kundhei (Orissa), Gombeyatta (Karnataka), Bommalattam (Tamil Nadu)
Kathputli (Rajasthan) 
Large dolls carved from a single piece of wood (Colourfully dressed)
Costumes and headgears are designed in the medieval Rajasthani style of dress
Accompanied by a highly dramatised version of the regional music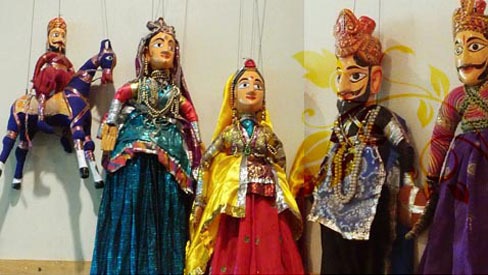 Distinct facial features → Oval faces, large eyes, arched eyebrows and large lips
Wear long trailing skirts and do not have legs.
Puppeteers manipulate them with two to five strings which are normally tied to their fingers
Kundhei (Orissa) 
Made of light wood
Have no legs but wear long flowing skirts.
Have more joints and are, therefore, more versatile, articulate and easy to manipulate.
Use a triangle shape wooden prop, to which strings are attached for manipulation.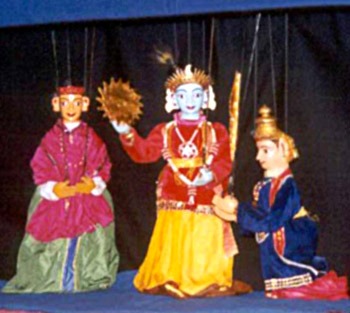 Costumes resemble those worn by actors of the Jatra traditional theater
Music – Regional music & Odissi dance's music
Gombeyatta (Karnataka) 
Puppets – styled and designed like the characters of Yakshagana
Highly stylized and have joints at the legs, shoulders, elbows, hips and knees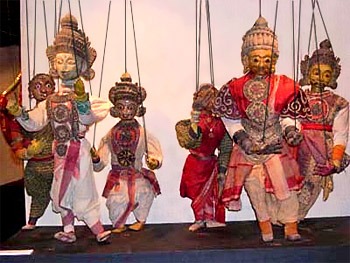 Manipulated by five to seven strings tied to a prop
Complicated movements are manipulated by two to three puppeteers at a time
Bommalattam (Tamil Nadu) 
Made of wood → Combine the techniques of both rod and string puppets.
Strings for manipulation are tied to an iron ring which the puppeteer wears like a crown on his head
Few puppets have jointed arms and hands, which are manipulated by rods.
These puppets are the largest, heaviest and the most articulate of all traditional Indian marionettes
---
Shadow Puppets
Shadow puppets are flat figures.
Cut out of leather, which has been treated to make it translucent.
Pressed against the screen with a strong source of light behind it.
Manipulation between the light and the screen make silhouettes (colourful shadows)
Found in Orissa, Kerala, Andhra Pradesh, Karnataka, Maharashtra and Tamil Nadu
Prominent forms → Togalu Gombeyatta (Karnataka), Tholu Bommalata (Andhra Pradesh), Ravanachhaya (Orissa)
Togalu Gombeyatta (Karnataka)
Puppets are mostly small in size
Puppets differ in size according to their social status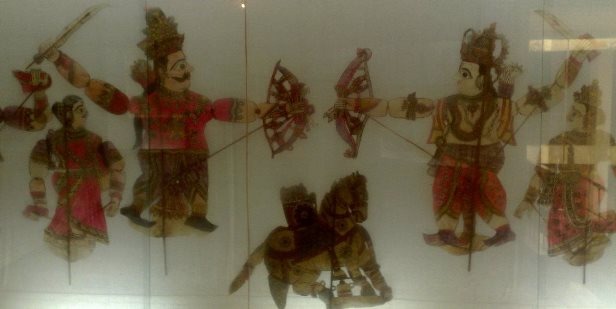 Large size for kings and religious characters and smaller size for common people or servants
Tholu Bommalata (Andhra Pradesh) 
Puppets are large in size and have jointed waist, shoulders, elbows and knees
Coloured on both sides, throwing coloured shadows on the screen
Theme are drawn from the Ramayana, Mahabharata and Puranas
Ravanachhaya (Orissa)
Puppets are in one piece and have no joints; & smaller in size
Not coloured, hence throw opaque shadows on the screen.
Manipulation requires great dexterity, since there are no joints.
Puppets are made of deer skin and are conceived in bold dramatic poses.
Apart from human and animal characters, many props such as trees, mountains, chariots, etc. are also used.
---
Glove Puppets
Also known as sleeve, hand or palm puppets
Head is made of either papier mache, cloth or wood
Hands emerge from just below the neck.
Rest of the figure consists of a long flowing skirt.
Controlled by the human hand – first finger inserted in the head and middle finger and thumb are the two arms of the puppet.
In Orissa, the puppeteer plays on the dholak with one hand and manipulates the puppet with the other.
Delivery of the dialogues, the movement of the puppet and the beat of the dholak are well synchronised
Notable glove puppet example → Pavakoothu, Kerala
Pavakoothu (Kerala) 
Head and the arms are carved of wood and joined together with thick cloth, cut and stitched into a small bag.
Face of the puppets is decorated with paints, small and thin pieces of gilded tin, the feathers of the peacock, etc.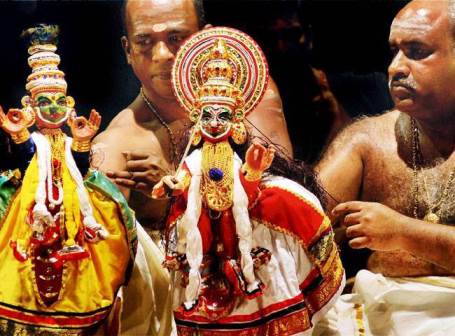 Manipulator puts his hand into the bag and moves the hands and head of the puppet.
Theme – based on the episodes from either the Ramayana or the Mahabharata.
---
Rod Puppets
An extension of glove-puppets, but often much larger and supported and manipulated by rods from below.
Notable examples of Rod puppets → Putul Nautch (West Bengal), Yampuri (Bihar) & Orissa Rod Puppets
Putul Nautch (West Bengal) 
Carved from wood; costumed like the actors of Jatra
Puppets have mostly three joints.
Head, supported by the main rod, is joined at the neck and both hands attached to rods are joined at the shoulders.
Bamboo-made hub is tied firmly to the waist of the puppeteer on which the rod holding the puppet is placed.
Puppeteers each holding one puppet, stand behind a head-high curtain and while manipulating the rods also move and dance imparting corresponding movements to the puppets.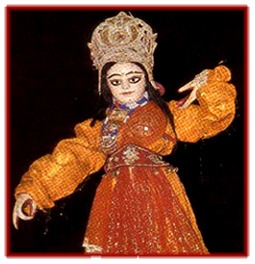 Puppeteers themselves sing and deliver the stylized prose dialogues & a group of musicians provide the accompanying music with a drum, harmonium and cymbals.
Music and verbal text have close similarity with the Jatra theater.
Orissa Rod Puppets
Mostly three joints, but the hands are tied to strings instead of rods.
Elements of rod and string puppets are combined in this form of puppetry.
Most of the dialogues are sung.
Music blends folk tunes with classical Odissi tunes.
Puppets of Orissa are smaller than those from Bengal or Andhra Pradesh.
More operatic and prose dialogues are seldom used.
Yampuri (Bihar) 
Unlike the traditional Rod puppets of West Bengal and Orissa, these puppets are in one piece and have no joint
Puppets are in one piece and have no joints.
Requires greater dexterity to manipulate