Communal Riots India
The problem of communalism begins when a religion is seen as the basis of the national unity and identity. The problem becomes sharper when followers of a particular religion are pitted against another.
Political mobilization on religious lines is another frequent form of communalism; this involves use of sacred symbols, religious leader's emotional appeal and plain fear in order to bring the followers of one religion together against the other religious community.
In-spite equal freedom to everyone in the country & secular character of India, it witnessed lots of communal riots which were immensely brutal and horrendous.
---
Ayodhya Dispute
A dispute had been going on for many decades over the mosque known as Babri Masjid at Ayodhya, built by Babur's General.
Some Hindus believe that it was built after demolishing a temple of Lord Rama which is believed to be his birthplace.
The dispute reached to the court and in late 1940's the mosque was locked up as the matter was with court.
In 1986, the Faizabad district court ordered that Babri Masjid premises to be unlocked so that Hindus could offer prayers at the statue which they considered as a temple.
Soon with the unlocking of doors, mobilisation on communal lines began on both the sides.
Gradually the local issue became national issue and increased the communal tensions.
In December, 1992 many Karsevaks of Hindu Right Wing faction like VHP, Bajrang Dal etc. arrived at Ayodhya in the name Karseva, voluntary service by devotees to build Ram temple.
Meanwhile, Apex Court ordered that State government must ensure that disputed site won't be endangered.
However thousands of peoples arrived there and demolished the Babri Masjid on Dec. 06, 1992 and vitiated the peaceful atmosphere in the country.
It was followed by communal riots in the country at large scale, in which lots of people died. Union gov. dismissed state government and appointed Librehan Commission to investigation circumstance leading to demolition of mosque.
---
Anti-Sikh Riots 
Due to the orders of Indira Gandhi, Indian Army launched its offensive against Sikh militants at the Golden Temple in Amritsar under the code name "Operation Blue Star".
The army was successful in driving out the militants from the Sikh's sacred place, but this event angered the Sikh People and their sentiments got hurt.
To avenge this action, bodyguards of Mrs. Gandhi killed her at her own house.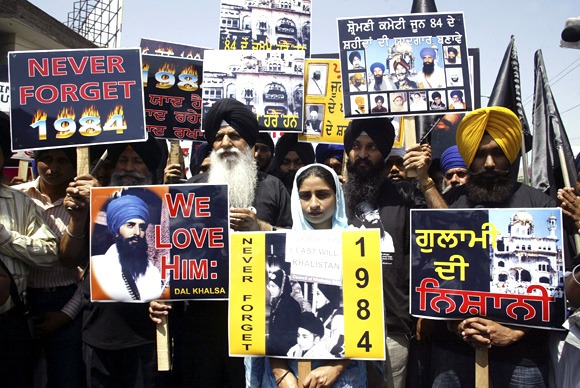 Later the angry congress workers and supporters allegedly began their brutal actions of killing innocent Sikh People in the country; Delhi was the most affected area during anti Sikh riots.
Union Government appointed so many commissions to enquire about the guilty people and to find out their masterminds, but nothing concrete came out of such commissions.
The kiths and kins of the victims of Anti-Sikh riots are still waiting to get the justice after 30 years of the incident.
---
Anti-Muslim riots in Gujarat (2002) 
In 2002, Gujarat witnessed one of the ugliest communal riots in its history.
The spark of the riots happens at Godhra Station, where a bogey of train that was returning from Ayodhya with Karsevaks was set on fire.
Suspecting it to be Muslims conspiracy, large scale violence against Muslims began in many parts of Gujarat.
National Human Right Commission Criticized the Gujarat Govt's role in failing to control violence, in providing relief to the victims & prosecute the perpetrators of this violence.
"We Request you to shop on Amazon or Flipkart using links given below to help us earn Referral Commission"
SHOP ON AMAZON                               SHOP ON FLIPKART