Criminal Defamation, Section 295A, Section 124A
Analysis on Criminal Defamation
Sections 499 and 500 of IPC prescribe two years' imprisonment for a person found guilty of defamation.
The Supreme Court recently upheld the validity of the criminal defamation law.
The court pronounced its verdict on a batch of petitions challenging the constitutional validity of sections 499 and 500 of the Indian Penal Code providing for criminal defamation.
The court said though free speech is a "highly valued and cherished right", imprisonment is a proportionate punishment for defamatory remarks.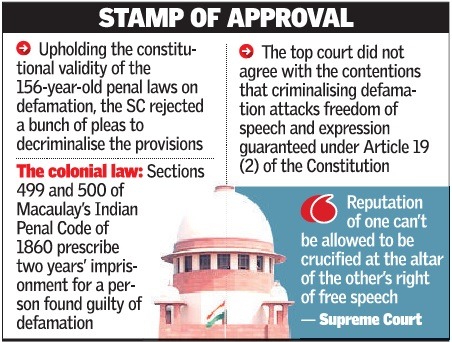 Arguments For

Criminal Defamation
Reputation of an individual, constituent in Article 21 is an equally important right as free speech.
Criminalization of defamation to protect individual dignity and reputation is a "reasonable restriction"
Editors have to take the responsibility of everything they publish as it has far-reaching consequences in an individual and country's life
The acts of expression should be looked at both from the perspective of the speaker and the place at which he speaks, the audience etc.
It has been part of statutory law for over 70 years. It has neither diluted our vibrant democracy nor abridged free speech
Mere misuse or abuse of law can never be a reason to render a provision unconstitutional rather lower judiciary must be sensitized to prevent misuse
Monetary compensation in civil defamation is not proportional to the excessive harm done to the reputation
Arguments Against

Criminal Defamation
Freedom of speech and expression of media is important for a vibrant democracy and the threat of prosecution alone is enough to suppress the truth.
Many times the influential people misuse this provision to suppress any voices against them.
Considering anecdotal evidence, every dissent may be taken as unpalatable criticism.
The right to reputation cannot be extended to collectives such as the government, which has the resources to set right damage to their reputations.
The process in the criminal cases itself becomes a punishment for the accused as it requires him to be personally present along with a lawyer on each date of hearing.
Given that a civil remedy to defamation already exists, no purpose is served by retaining the criminal remedy except to coerce, harass and threaten.
It goes against the global trend of decriminalizing defamation
Many countries, including neighboring Sri Lanka, have decriminalized defamation.
In 2011, the Human Rights Committee of the International Covenant on Civil and Political Rights called upon states to abolish criminal defamation, noting that it intimidates citizens and makes them shy away from exposing wrongdoing.
---
Section 295A of IPC

 
Section 295 of Indian Penal Code incriminates any act that outrages the religious feelings or sentiments of others
Recently, comedian Kiku Sharda was arrested for acting out a spoof on godman Gurmeet Ram Rahim Singh.
In past also Section 295A has been used at various occasions. It was also used to issue arrest warrants to All India Bakchod, Karan Johar, Ranveer Singh and Arjun Kapoor in the 'AIB Roast controversy'.
Arguments Against

SECTION 295A
The IPC provision is seen as a tool in the hands of the ruling government to curb dissent
They also use it to promote their political cause by pleasing a certain section of community at the cost of others.
This is seen as a direct violation of Freedom of Speech and Expression guaranteed under A.19 (1) (a).
It also goes against A. 51 A of the Constitution that states that it is a "fundamental duty of every citizen of India to develop the scientific temper, humanism and the spirit of inquiry and reform".
The real issue is not the provision itself but its misapplication. The provision clearly states the requirement of 'malice' or 'bad intention' on the part of the perpetrator. However, the police and the ruling class use this for its own personal benefits many a times. There is a need to read down the provision and give clear guidelines to the police for its application. Misapplication should be strictly dealt with.
---
Section 124A – Sedition Charges
The section 124A of Indian Penal Code is a pre-independence provision which covers sedition charges against government. Human rights activists and supporters of free speech argued that this section is draconian and should be got rid of.
Arguments in favour of Sedition Law
In 1962, the Supreme Court in Kedar Nath Singh vs State of Bihar upheld Section 124A and held that it struck a "correct balance" between fundamental rights and the need for public order.
The court had significantly reduced the scope of Sedition law to only those cases where there is incitement to imminent violence towards overthrow of the state.
Further, the Court held that it is not mere against government of the day but the institutions as symbol of state.
Argument against section 124A
It stifles the democratic right of people to criticize the government.
The police might not have the "requisite" training to understand the consequences of imposing such a "stringent" provision.
It has been used arbitrarily to curb dissent. In many cases the main targets have been writers, journalists, activists who question government policy and projects, and political dissenters.
The massive levels of poverty, poor health care, unemployment, malnourishment and poor policies leading to farmer's suicide – justifies expressing dissent and disenchantment against government openly.
The draconian nature of this law—non-bailable, non-cognisable and punishment that can extend for life—has a strong deterrent effect on dissent even if it is not used.
The press should be protected so that it could bare the secrets of government and inform the people. Only a free and unrestrained press can effectively expose deception in government.
Way Forward
The guidelines of the SC must be incorporated in Section 124A as well by amendment to IPC so that any ambiguity is removed.
The state police must be sufficiently guided as to where the section must be imposed and where not.
Implementing the Law Commission's recommendations in this regard to include 'acts against overthrowing of judiciary' also under it.