Competitive Federalism, Interstate Water Dispute, Center State Tussle
Competitive Federalism
A concept where centre competes with states and vice-versa, and states compete with each other mainly to attract investments by facilitating reforms.
States compete with each other over a broad range of issues to provide citizens with the best value goods and services at the lowest cost.
Follows bottom-up approach i.e. it will bring the change from the states.
Competitive federalism in India
Develop competitive federalism in India is an important mandate of Niti Ayog
Centre has increased the share of states in central tax revenue from the earlier 32% to 42%.
states have also been given the freedom to plan their expenditure based on their own priorities & are free to change centrally sponsored schemes
State governments are expected & increasingly becoming financially & resourcefully self sufficient to carry out policy reforms.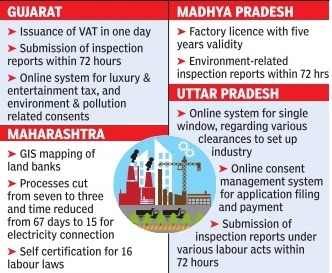 Competitive federalism is driving the Indian states to:
rush in for reforms
make processes easy for doing business in their state
expediting the pending project clearances
Examples
Andhra Pradesh and Karnataka, actively pursuing investors to help build out their main technology hubs of Hyderabad and Bengaluru
Land reforms in form of land acquisition act in Gujrat, Land revenue code in Maharashtra, Land leasing reforms in Andhra Pradesh & Land entitlement act in Rajasthan
Labour reforms in Gujrat, Karnataka & Rajasthan
Conclusion
India though is on right track, but not all states have embraced the concept of competitive federalism.
Only few states are taking steps to strengthen their business environments, including initiating difficult reforms on land acquisition & labour flexibility
The deficit states like Bihar, Odisha, Jharkhand, NE states etc. need special attention in which the central government has to provide special funds to these states. Without special funding these states cannot imagine their participation in competitive federalism.
---
Interstate Water Disputes
Sutlej-Yamuna Link (SYL) Canal Issue
Supreme Court has directed the Punjab government to maintain status quo on land marked for the construction of SYL canal.
However, going against the SC directive, Punjab assembly passed Punjab Sutlej-Yamuna Link Canal (Rehabilitation and Re-vesting of Proprietary Rights) Bill 2016, which seeks to return land acquired for the canal's construction to the original owners free of cost.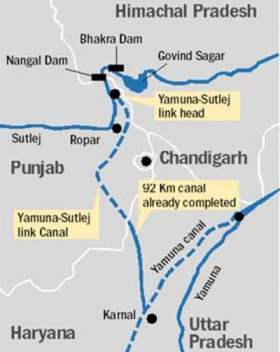 Cauvery River Dispute
Supreme Court recently directed the Karnataka government to release 15,000 cusecs of Cauvery water per day to Tamil Nadu on the plight of farmers.
This created widespread disorder in Karnataka resulting in curfew being imposed in parts of Bengaluru.
Reasons for Interstate water disputes
85% percent of the Indian land mass lies within its major and medium inter-state rivers.
The regulation and development of the waters of these rivers and river valleys continues to be a source of inter-State friction
Demand for water had been increasing at an accelerated rate due to rapid growth of population, agricultural development, urbanization, industrialization, etc.
These developments have led to several inter-state disputes about sharing of water of these rivers.
Constitutional Provisions 
Article 262(1) of the Constitution lays down that "Parliament may by law provide for the adjudication of any dispute or complaint with respect to the use, distribution or control of the waters of, or in, any inter-State river, or river valley".
Parliament has enacted the Inter-State River Water Disputes Act, 1956, salient features of which are –
 Constitution of the tribunal for Adjudication of water disputes
Tribunal shall have the same powers as are vested in a civil court
Bar of jurisdiction of Supreme Court and other Courts
Criticisms against existing arrangements
Inordinate delay in securing settlement of such disputes
No provision for an adequate machinery to enforce the award of the Tribunal
In the event the Tribunal holding against any Party, that Party is quick to seek redressal in the Supreme Court
When after nearly twenty years a final decision was handed down by the Cauvery Tribunal on February 5, 2007, it was subjected to a challenge in the Supreme Court by the States of Karnataka and Kerala, on certain constitutional issues. The dispute remains unresolved
Control over water is considered a right which has to be jealously guarded. Compromise is considered a weakness which can prove politically fatal.
Impact of River Water Disputes
causes concerns about their potential impact over State-State relations in India
Civic strife & long deliberations produce various kinds of insecurities and impact people's livelihoods
Political mobilization over uneven water resource distribution is proving to be a major challenge for policy makers in India
Adverse implications to the federal integrity of the nation-state for example ethnic clashes and violence between Tamil Nadu and Karnataka over cauvery river dispute
Suggestions
Inter-State Council can play a useful role in facilitating discussion among states towards resolving conflicts
Tribunal should be a multidisciplinary body & should follow a more participatory and conciliatory approach
Many times such issues arise as a result of a focus on demand-side management. Many scholars have argued that supply-side management (augmenting the water supply) might be one way of dealing with such issues
One of the measures could be to declare all the major rivers as national property, and national schemes under Central assistance should be launched for the development of total command area of the concerned states.
---
Center State Tussle – Special Case of Delhi
The tussle between Chief Minister of Delhi and the LG is not a new altogether. Every successive government in Delhi has been asking for more power. But, since it is not a full-fledged state many powers lie with the central government.
The state government has blamed the central government of constantly interfering in its working via the Lieutenant Governor and robbing the democratically elected state government of its powers.
The central government, on the other hand, has accused the state government of not respecting the rule of law and that it is trying to run the government in an unconstitutional manner by usurping the powers which it does not have.
Special Case of Delhi
Article 239AA of the Indian Constitution says that the Delhi Government does not have powers to enact laws on Public Order, Police and Land.
However, rule 45 of the transaction of business rules says that Delhi government can have powers on these three subjects if there is an order issued by the Central Government. This section is quoted by the state government while demanding more powers.
But, Transaction of business rules and GNCT Act also imposes restrictions on the powers of the CM and his CoM.
As per this, the Bills require the previous sanction of President, the appointment of Secretaries also has to be in concurrence with the LG etc.
These provisions have been cited by the Central government to argue that the actions of LG are as mandated by the Constitution and totally within the realm of law.
Way ahead
The constitution and National Capital Region Act have laid down the framework within which the Delhi governance has to be carried out. These laws clearly demarcate the powers that the elected government will have and discretionary powers given to the Lt. Governor. Thus, even though the morality of the actions of the central government could be debated, the legality is more or less settled.
The bottom line is that there should be a harmonious functioning between the Lt. Governor and Chief Minister. The previous governments have also faced similar issues but they have worked out their differences within the four walls of the room.
In this fight, the ultimate loser is governance and people of Delhi. When the people of India have given mandate to a government, they expect it to be carried out. It now rests with the government to figure the way out.
While NCT is the capital of Delhi and thus some control of central government would be desirable, majority of its areas are outside the central capital region. Thus, the central and state government should work out an arrangement. The real challenge is political will in this respect.